First, we just listen.
A common question people have about how to evaluate whether to engage an advisor is, "How do we get started?" And a common answer from many firms is for you to bring in an exhaustive list of documentation to determine whether it's worth their time to interview you. In industry-speak, they're "qualifying" you for their services. We think the industry has this exactly backward.
To get started, just schedule a visit. Don't bring anything, just you. Sixty minutes, tops, to get to know each other. We always prefer to meet in person if we can. That might be in the same room, or it might be over a Skype or FaceTime connection. But if you're more comfortable starting with a phone call, that's fine too. Bottom line is we'll meet however you're most comfortable. If you walk away from that first visit wanting to know more, then we'll schedule a second visit a week or two downstream to see about rolling up our sleeves together.
Our second visit.
If we proceed to a second visit, we'll start discussing your goals, your expectations of us and how we'll work together. Before we're done, we'll probably already have a few recommendations  for all of us to get started on. Before we wrap up, we'll cover what sort of information we'll need to do our best continuing work for you and show you the technologies we employ to make it easy for you provide it (and for us to work and meet remotely). Finally, we'll schedule another visit at least a month away, to start reviewing your comprehensive plan and how we're going to monitor its progress together.
Unveiling your plan.
Now, most people think of the plan in terms of "how I'm going to invest." And investing is an important part of every plan, but we believe it should exist within a larger financial plan in which all the pieces fit together into a harmonious whole. Just as important, every piece of the plan should fit you. We think it looks something like this.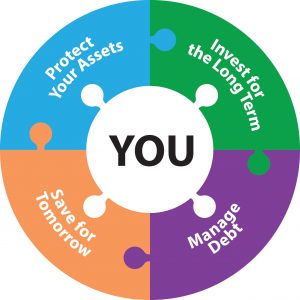 The size and shape of each of the pieces will change throughout your life. But at any given time, we believe every plan should entail realistic goals and priorities relative to your current cash flow. Below are just some of the examples of things we look at in every plan.
Save for tomorrow

.

Typical time horizons are less than five years.
Emergency fund.
Near-term priorities--travel, Christmas, down payment for a new home, a home improvement, etc.

Manage debt

.

Minimize or eliminate bad debt--usually credit cards--as quickly as possible.
Prioritize and manage paying down good debt--auto loans, mortgage, student loans--relative to the rest of the plan.

Protect your assets

.

Your home and valuables.
Your ability to earn income.
Protecting your estate against prolonged long-term care expenses.

Invest for the long term

.

Typical time horizons are ten or more years.
Education funds for children or grandchildren.
Retirement funds.
Estate planning.
We'll review all the parts of your plan to make sure you understand and are comfortable with them, and we'll show you how we employ the same technologies we used for exchanging information to monitor your plan and stress test it. Last, but by no means least, we'll figure out together how we help you implement and monitor the plan. 
Our
Process
Simple. Repeatable. Holistic. Sustainable.